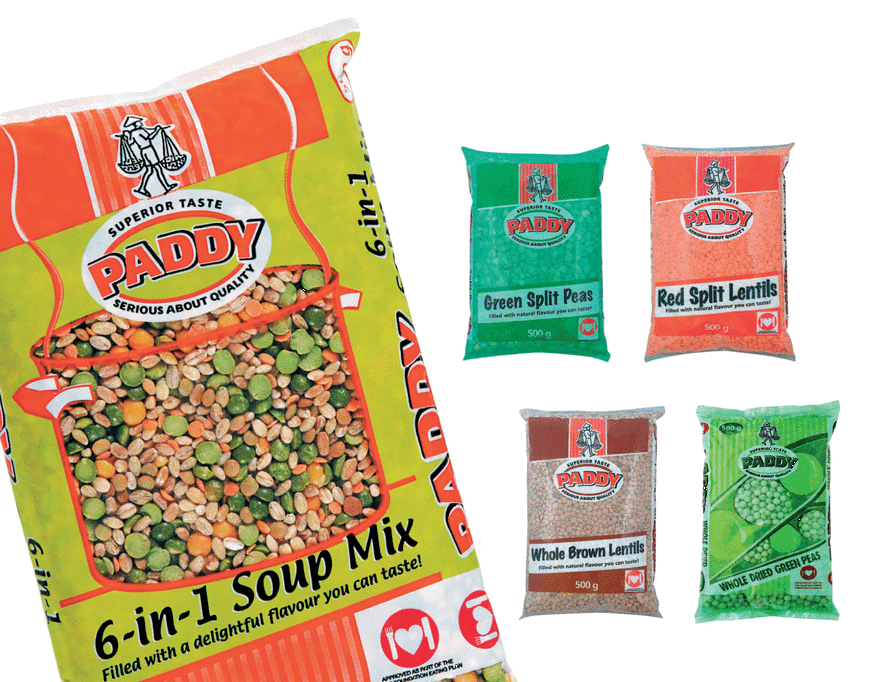 Products in this range:
Paddy Brown lentils
Paddy Green Split peas
Paddy Red Split lentils
Paddy Whole Green peas
Paddy Green Split Pea "chips"
Paddy Black Eye beans
Paddy Red Speckled beans
Paddy Half White Sugar Beans "Lappies"
Paddy Fine Coconut
Paddy Soup Mix 6in1
Paddy Sago
Paddy Tapioca
Paddy Popcorn
Paddy Large White Kidney Beans
Paddy Pearled Barley
Paddy Samp & Beans
Two Peas, History and Tradition in a pod
"You. who dare insult lentil soup. sweetest of delicacies." – Aristophanes
Once regarded as a "poor man's food" in ancient Greece, lentil soup has conquered kitchens around the world with its comforting and nutritious qualities. As rich as the soup is, the humble legume's history is something worthy of a book of its own.
The first evidence of lentils dates back to thousands of years ago on the banks of the Euphrates River and in ancient Greece's Franchthi Cave. Since then, lentils have been a popular source of protein in soups, salads and main course dishes for royals and peasants alike in the eras that followed.
Several cultures have since adopted the humble yet probably, the most flavourful legume not only in their diets but in their traditions as well, with lentil soup being the popular dish of choice. During the holy month of Ramadan, a highlight of iftar, or breaking the fast, is a generous serving of velvety lentil soup which can be topped with Arabic bread croütons and a squeeze of lemon. Egyptian winters are made warmer with puréed lentil soup. Brazilians believe that a bowl of lentil soup on New Year's Day signifies a wealthy year to come, similar to the German New Year's Day belief that linsensuppe will ensure money all year round, with lentils symbolizing coins.
Other countries use lentils not just in soups but in other dishes as well. In the Indian subcontinent, meals are incomplete without dal made up of pulses including lentils and usually eaten with rice or roti. In Europe Italian holidays are made more festive with a serving of lentils and sausage; the French prefer their lentils in a salad tossed with a vinaigrette, and the Greeks make bread with lentils.
Lentils are one of the most flexible legumes which in turn offer a lot of variations to lentil soup. Potatoes, carrots, sweet potato and pumpkin are a few common choices to add richness, while some add celery, onions, tomato and even ripe plantains. Flavours around the world also vary with the addition of cumin, garlic, olive oil, bay leaf and even a splash of vinegar. Garnishing could be croütons and freshly chopped herbs or a dollop of yoghurt or cream.